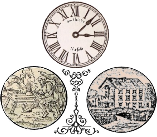 Lovingly repaired, restored,
We are very conscious that servicing and repairs to older clocks is simply uneconomical; paying the value of the timepiece to have it looked at doesn't make sense - we recently came across someone who paid £120 for a very nice mantle clock, then spent £150 on having it serviced, but it never worked. When it came to us we valued it at about £25 because so much had to be replaced.
Our hope is to offer an economical set strip/clean/report/reassemble and run service for the type of clocks we work with for under £75. We have done some to try and work out pricing and it looks very positive.
We hope to have details and prices up very soon.